** Attached PDF file contains detailed instruction.
Connect to Universal Robots' CB3-series robot controllers that have the RTDE interface. The RTDE (Real time data exchange) interface is available (and always enabled) in controllers with software version 3.2.19171 or newer*. The same RTDE interface is also available in the URSim robot controller simulator, which is provided free of charge as a virtual machine on UR support website.
Connection settings
The connection settings include the robot controller's IP address or host (dns) name, the RTDE port on the controller, and timeout. The port should always be the same default value 30004, it is included just for future proofing. The timeout (in milliseconds) is used for initial connect and synchronous operations including all configuration changes to recipes.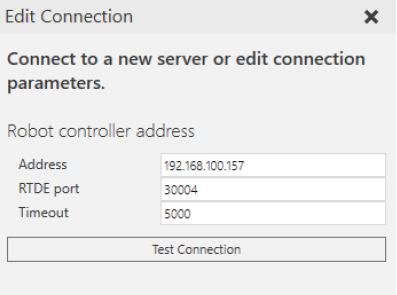 -Regards
Emulate-with-VC-Premium_Robotics-and-Polyscope.pdf (2.56 MB)