Hi,
For some days I have been struggling with making a workpiece positioner grasp details.
Here is a pciture of the layout I have in KUKA SIM PRO.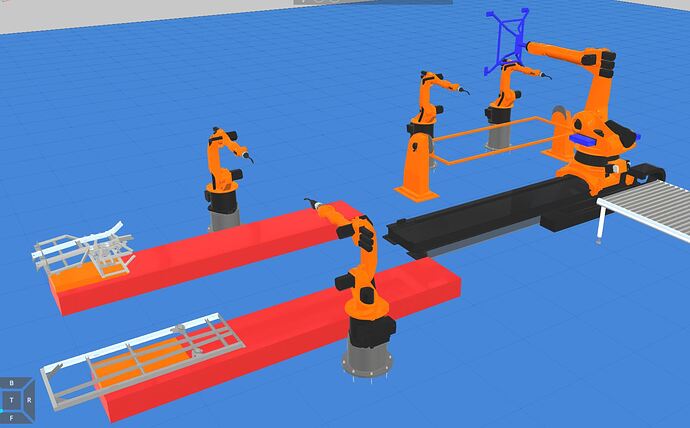 Small explanation about what I am trying to achieve:
The red blocks with the orange blocks on top are representing linear units/rails. I modelled them similar to the robot linear unit with a servo controller and an abstract (not physical) one-to-one interface. Off course, I have a translational link between the orange and the red block.
The metal parts on the orange blocks are parts from a chasis.
For now I placed the chasis parts on the orange block by using the Attach tool and the robot is able to grasp them when they reach the end of the corresponding red block.
For the workpiece positioner I modelled a small frame that should hold the details. The frame is attached to the worpiece positioner successfully utilizing an interface.
I would like the big robot on the linear unit to place the chasis parts on the frame and they should be rotated by the worpiece positioner. When I try to release the chasis parts now, they just fall and disappear.
I want to point out that when I have the chasis whole assembly (please see the picture below) placed on the frame, utilizing the Attach tool, the robot releases the metal part and it gets somehow attach to the workpiece positioner. It does not fall or disappear. The metal part can also be rotated with the workpiece positioner.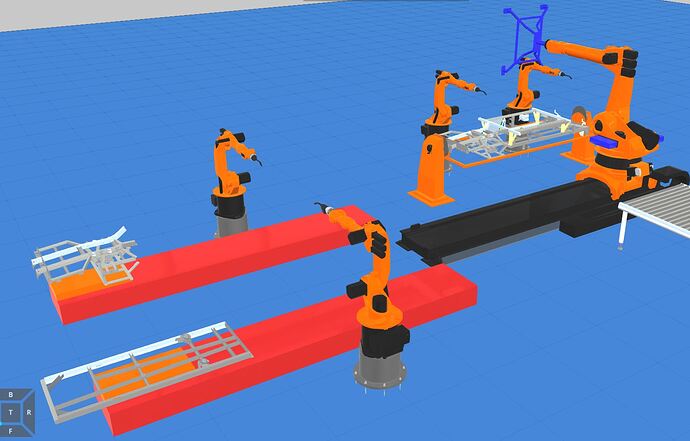 Could give me a hint how to approach this problem?
I tried to use the GraspActionWizard but I did not manage to make the frame grasp the chasis parts.
Best Regards
Konstantin