I want to download some other vcmx models. Where can I download them?
I'm not sure I understand this correctly. There is eCatalog in VC. You can find models there. I don't think there are any other external libraries with other models.
I want to make an injection molding factory layout, but there is no injection molding machine in vc's own model library, so I think there are other model libraries
There are no other public vcmx model libraries than the built-in eCatalog.
The eCatalog is updated with every product version. Some generic injection molding machines are available in Visual Components 4.2 and 4.3.
You can always import your own model from a CAD file, and use that in your simulation.
In 4.2 there were two IMM introduced to ecat (Injection Molding Machine and Small Injection Molding Machine). If you have older VC version then I suggest to check that you have valid maintenance and then you can upgrade VC and get access to these models.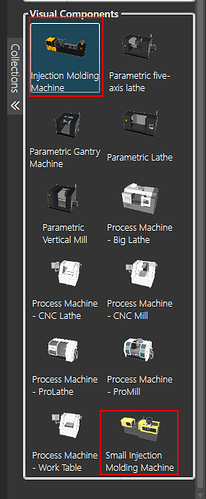 -k
Do you have 4.2 and 4.3 models? They should be in the installation folder. Can you send me a copy? thank you
We don't share ecat models here. They're part of the product and its value proposition. If you have valid maintenance then you can upgrade VC and get access to latest ecat.
-k