Hello,
I'm trying to simulate following scenario:
Conveyor 1 should feed cubes to conveyor 2 with AGV until the conveyor 2 capacity is full. After that Conveyor 1 should feed the cubes to shelves with AGV. And whenever the conveyor 2 is available again, the AGV should take a cube from the shelf and bring it to conveyor 2 until its is full again. And then the AGV will continue bringing cubes from the Conveyor 1 to the shelves.
So basically I want to skip putting the cubes on buffer shelves when conveyor 2 is ready to receive a cube. For this I need the direct flow from conveyor 1 to conveyor 2. However I can't figure out how to do this. I can make a Flow arrow between Conveyor 1 and conveyor 2, but It won't work if there are also arrows from conveyor 1 to shelves.
I have attached the layout and a picture to clarify this.
In all the example tutorials its shown how to make a flow from lets say one conveyor to 4 lathes, But how can I make Flow from same conveyor to EITHER Lathe OR to a table if the Lathes are fully occupied? With using AGVs.
Thanks to whoever finds time to respond to this long cry for help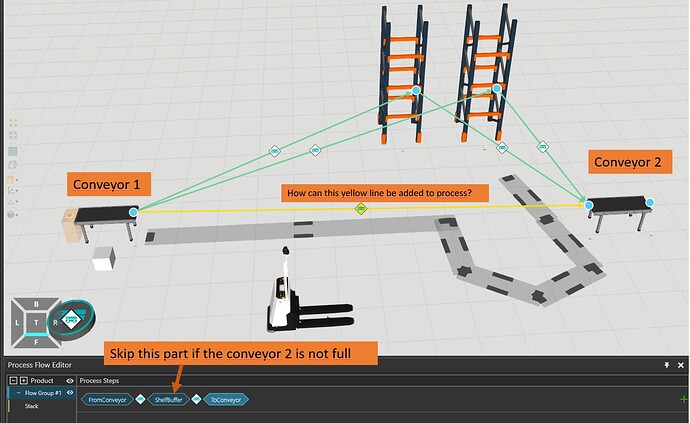 Harjoitus2.vcmx (181.3 KB)