Hi,
This is going to be rather long question so sorry about that. Or actually 3-4 questions.
Is it possible to make a Buffer shelf that lets you store 1 or 2 products on the same level of the shelf depending on their size?
The idea is that I have a Buffer shelf that has 3 levels and the levels are for example 2 meters deep. And I have 2 different sized products that are either 1 meter deep or 2 meter deep.
If AGV brings 2 meter deep product to that Buffer, then because it is as deep as one level of that shelf, the product fills that one level and there is no space for more.
However, if the AGV brings 1 meter deep product to that same Buffer with 2 meter deep levels, then the product doesn't fill the whole level and there is space for another 1m deep product in front of this last product.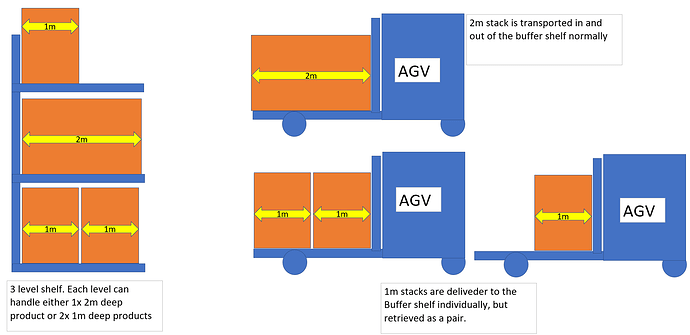 So is the scenario on the picture above possible to do in VC 4.5 Professional?
After I have delivered the products to the Buffer shelf, can I retrieve 2x 1m deep products as a pair from the Buffer shelf (Like in the picture)? And In case the product is 2m deep, AGV only picks one.
The products go to the next process (To Conveyor). Is it possible that this "To conveyor" process requests if it wants the AGV to retrieve 1x 2m deep product or 2x 1m deep products from the shelve?
If this is too complex, then I can live with a compromise that this pair of 1m deep products are destroyed in the Buffer and replaced with some other part that visually looks like there were 2 x 1m deep parts when in reality it is just one part. However it must be different that 2m deep part.
But even in this case it would be mandatory that the "To conveyor" process can ask some specific product or products to be retrieved from the Buffer based on the product parameters. Is this even possible in VC 4.5? Some guy asked this on the forum while he had VC 4.3 but didn't get an answer as far as I understood.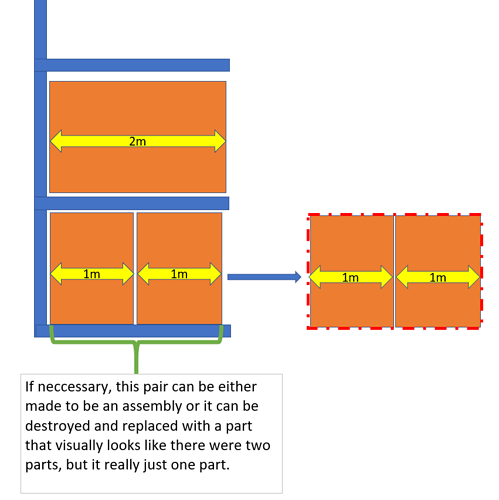 Thank you in advance.