I have KUKA OfficeLite software with OPCUA server.
I can manage server's variables with UaExpert prgram, read and write.
I setup access to this server in Visual Components.
Add variables in Simulation to server tab.
But, I cannot write values.
The error is: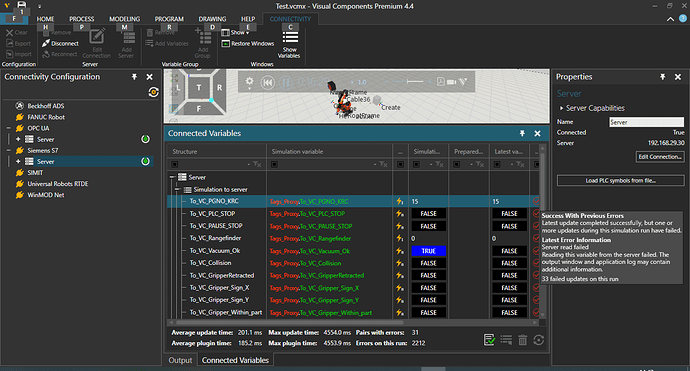 Temporary error
Lastes update failed due to an error that depends on the variable value
In output Window I have:
0:00:07.187 Connectivity info: OPC UA - Server - Connection status changed to: Connecting
0:00:07.187 Connectivity info: OPC UA - Server - Connected to endpoint "opc.tcp://WINDOWS-43944CP:4840/" with security mode "SignAndEncrypt", security policy "Basic256Sha256" and transport profile "UaTcpTransport"
Connectivity warning: OPC UA - Server - Server to simulation - Communication delay warning threshold of 2000 ms reached. Average completion time of last 5 operations: 2367.5 ms.
I try to setup Communication delay warning threshold to 5000 ms. Error message is disappeared, but writing still failed.
How to setup server for writing?