hello everyone,
I'm currently working on robot simulation using sim pro 3.1.2 where I picked up box from a conveyor and move it to a pallet.
Those boxes do have random height so I need to change the Z.value of my point.
I'm using the "set base" command into the job map window to move the pallet's base and its Z value.
However I can't find a way to use my own variable ("INT_random_height) inside the Z value.
Do I need to write a python script for that?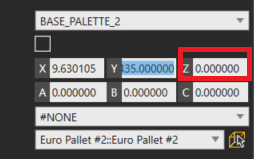 thx in advance