Hy,
how to expand a path statement to edit all points after creating this statement?

Thx & Regards
Feature
I think path statements can contain up to millions (or at least thousands) of points, so the UI can't show them all. You should be able to see the points or a reduced set of points in the 3D world as frames.
Hy,
how can I achive this view at an existing path-statement so that I'm able to edit the visible points which are not millions?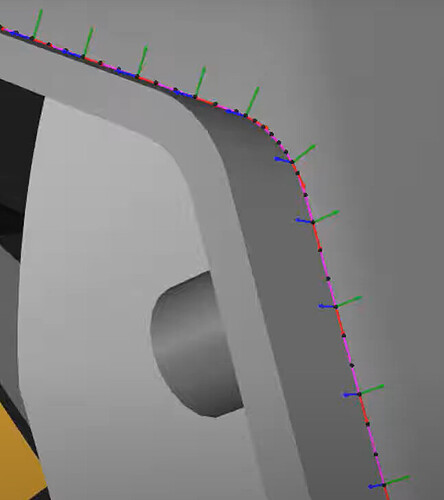 Thx & Regards
Feature
I think you can't get the path generation command / view but you can see the frames, select and move them in the 3D world.
https://imgur.com/a/D4cTv6B
edit: You can also edit and replace the whole path by clicking on the "Select curve" button in the path statement properties panel.
Hy,
that's really what I try to thx for the video but VC doesn't show me the points… → I did all like you in your video! -_-

Thx & Regards
Feature
Hy Lefa,
that would be exactly my wish. → A command at Path-Statement like "Expand" which shows all points like in your picture!
How did you get this?
When I untick "IsReference" on the two referencePoints my PathStatement is empty…

Thx & Regards
Feature
Hi,
First let's get some settings in the 3d viewport (robot positions is necessary, tools is not)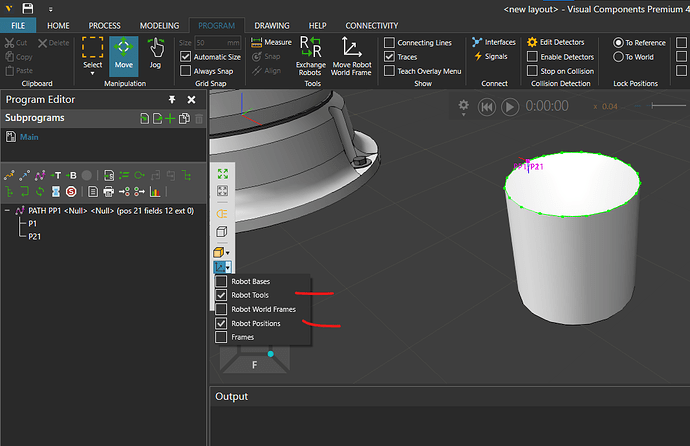 Now you can select the points as you can see them (ctrl + drag or select tool)

Next stop is to untick the is reference. This should allow you to modify all the selected points.
EDIT:
deleted edit
EDIT 2:
Sorry, I mis-spoke, keep IsReference ticked IN.
br,
Lefa
Hy,
I could get all points by:
1. Select all path statements
2. Click "IsReference" TWICE so that all points marked as Reference
Thx @Lefa
But only one question is open: "Why does my VC don't show me the points when I click on PathStatement as in your picture"???
I'm using:

Regards
Feature
Hey,
I don't… actually know. I think I mis-spoke? or I had slightly different selection. I'm pretty sure the points were already selected, so clicking the path statement didn't really do anything.
br,
Lefa
In this video it's looking like TSy get back to edit mode after pathStatement is generated. That I can't reproduce!
But your solution with Setting all Points to "IsReference" is also fine.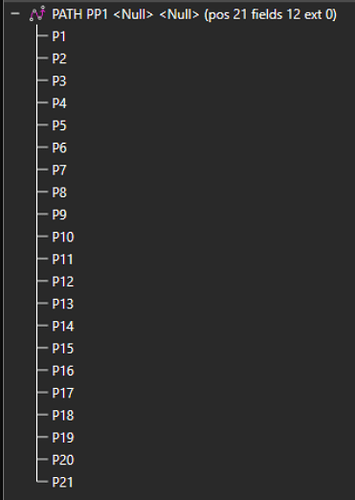 Thx & Regards
Feature
Even I find it difficult to trace each points in path statement (in VC 4.6) but now with your trick I can somehow trace them for now. But looks like this is not a solution
Hy,
not a solution for what?
Regards
Feature