Hey, I've got another container challenge

So I've got this shipping container that I want filled with boxes (It's an assembly). The problem is, the boxes arrive in bundles of three on an AGV. Now I know how to separate bundles if I only do that, and I know how to fill the container with boxes if they arrive one by one, but… I don't know how to do it both in one go. Even though I feel like I've nearly solved it, I'm stuck…
This is only an experiment, so right now there's only six available spots in the assembly - meaning it only needs to receive two batches before it's full.
Here is the current process I've cobbled together, I've marked the area where I receive parts and work on the assembly in pink.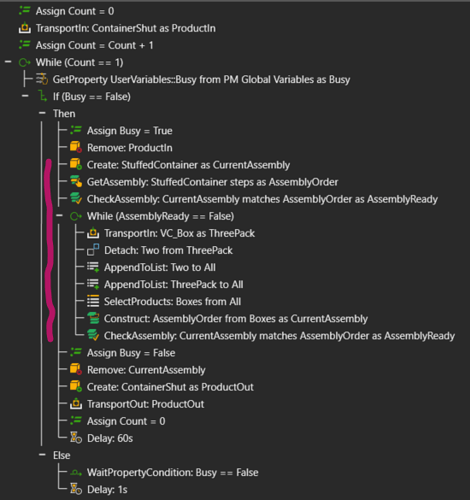 And this is the result:
First batch: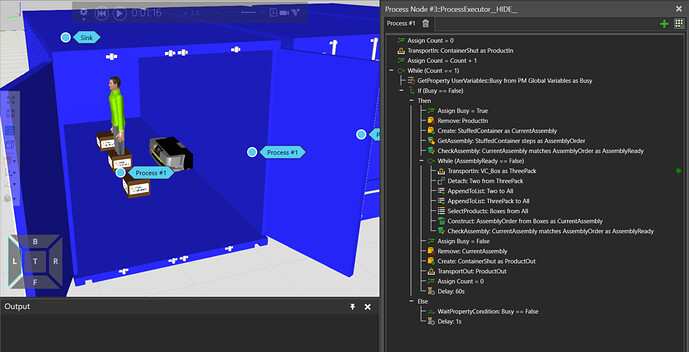 First batch is separated and placed correctly, so far so good…
Second batch: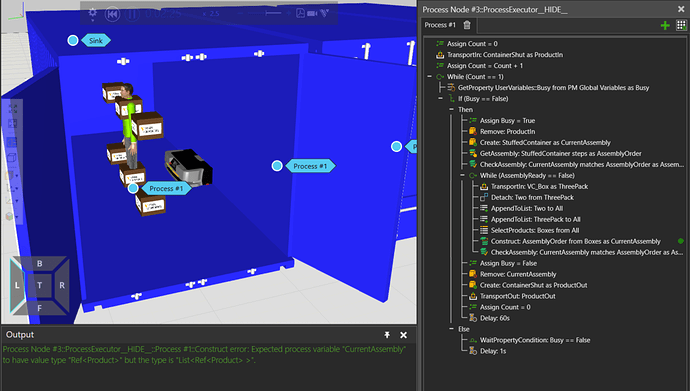 Second batch is also separated and placed correctly. The assembly is now complete and everything should just move on… But the process gets stuck on 'Contruct'. It doesn't move on to 'CheckAssembly' to see that the assembly is ready, everything stops. I don't quite understand the output message, or rather, what to do differently about it. Any suggestions? I probably don't use the statements correctly.
(PS. Don't mind the human, he's only there to assist the AGV with unloading boxes. Also the clipping is not important right now…)