Hy,
I have a Layout where I have definded some working collisiondetectors over UI. → Works fine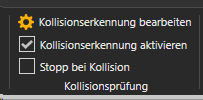 I try to capture the "CollisionDetected"-Event for all these Collisiondetectors.


How can I find and access these userdefined Collisiondetectors (and subscribe for these events) over .Net Api?
For recommendations I would be happy.

Thx & Regards
Feature