Is it possible to use an assembly consisting of a pallet and 100 stacked products as an intermediate buffer between 2 processes?
My downstream process has a higher cycle time and therefore the parts accumulate. When my process node that was implemented as a buffer is full, my handling robot does not know which destination to go to and I get an error. The Buffer in combination with my handling robot works perfektly fineuntil it is full.
1.) One solution would be to delete the parts in the buffer after it is full, unfortunately I do not know how this can be achieved. I do not know how to restart or exit the buffer process.

2.)Another solution would be to implement the buffer as a pallet assembly with transport in and transport out statements. I only have the problem that first all 100 parts are transported in, and none are transported out and not in or out as needed. Also here the functionality to remove a full pallet would be useful.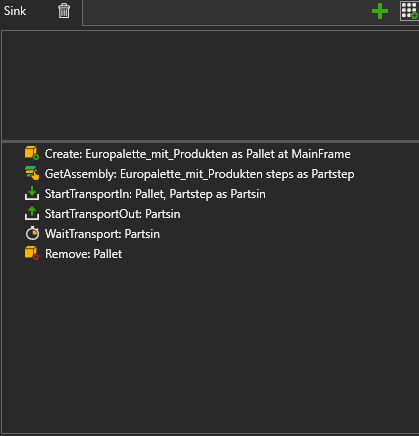 Could someone give me some helpful tips on one of these solutions?
Thanks a lot!