We don't yet have that on our modeling queue. Is there some particular you would like to see or all of them? It takes bit more time if its the whole family you'd want to be added.
-k
Hy keke,
just the (I think it's the only one) scara because that one will be used from our company in a product and we will would make a simulation with the scara and one of the robots which is already in eCat.

Edit: Oh there is an underlaying menu…

→ I will write the specific type soon!
Regards
Feature
But which Scara, there's quite many of them in their portfolio:
-k
Information follow soon… → Sorry
I'll add it to queue. I'll notify you on this thread once it's in 4.6 eCat.
-k
Hy @keke ,
can please also add this one to the queue please?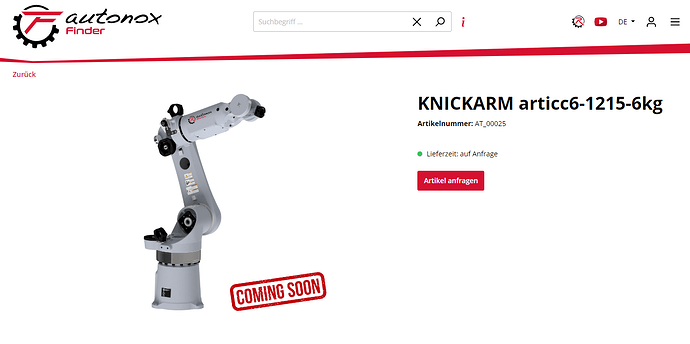 Than I have all for our projects.
Many thanks & Regards
Feature
Sure I add it to the modeling queue. I almost didn't find the info from their webiste but finally saw it under "Coming soon" section. In the future please post the direct link to the website.
-k
Hy @keke,
thx and sorry heres the link:
Regards
Feature
This articc6-1215-6kg is now on 4.6 eCat
-k