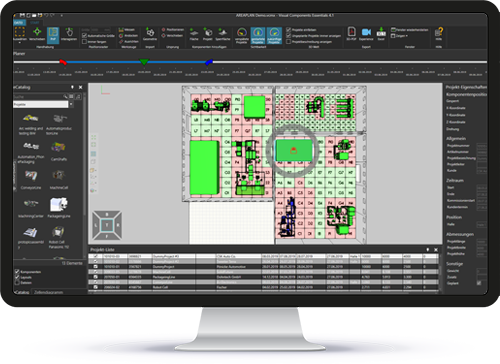 Plan and optimize your shop allocation with AREAPLAN
The available assembly area can be a serious bottleneck when it comes to scheduling and capacity planning for the assembly of special machines or bulky products at the construction site. Additional complications to be considered are changing delivery, assembly, commissioning and dismantling times and restrictions such as the floor load-bearing capacity, construction height and crane loads. With AREAPLAN, we help you efficiently plan assembly projects in a limited area under these conditions. Area planning becomes completely transparent, and optimized processes save you money.
How you benefit from shop planning with AREAPLAN?
Better utilization of the available area in the assembly shop
Greater transparency for all involved in assembly processes at the construction site
Convenient area requirement planning in a dynamic 3D factory layout
Allocating areas and scheduling sequences on a single platform reduces planning work
Specific statements about project feasibility and delivery dates
Optimization/Restriction tests (project collissions, Warnings on project and building properties, Payload and crane hook height, needed media connections)
Here you can find more informations:
Product video:
https://www.3d-fabriksimulation.de/webspace//videos/AREAPLAN_3_3_4_Demo_Long_EN.mp4
Product site:
AREAPLAN - Efficient assembly shop allocation | DUALIS (dualis-it.de)
Contact Data:
DUALIS GmbH IT Solution
Evelin Dietrich
+49 172 3487791