Hi all,
I have modelled a simplified system consisting of a feeder which feeds products onto a conveyor.
Further downstream the products should be picked from the conveyor and placed into a sink.
The throughput is thus high that I would like to have two robots alternate between picking-and-placing the products from its respective station to its respective sink:

To accomplish this I wrote a script for the first station using a counter: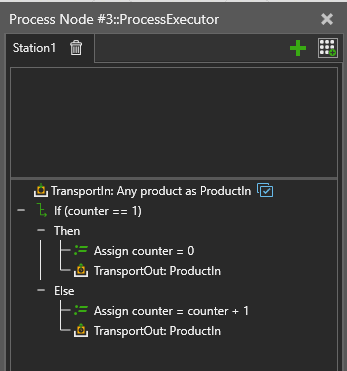 The counter is initially 0 such that Station 1 passes the transport out onto the conveyor, moving the first product to Station 2.
When the second product arrives at Station 1, the counter is 1 and the transport out is set to 'next process' (and the counter is reset to 0)
For testing purposes I connected the respective stations and sinks by interpolating transport:

The problem however is, that only one of the flow links works (note the error on the station 2):

To rule out causes, when I remove the flow link of station 1 the transportation of station 2 starts working:
Does anyone know how I could fix this, or model this in another way such that it does work?
Also a question in general; can two robots alternate between the same task? (lets say I model 1 station and 2 sinks)